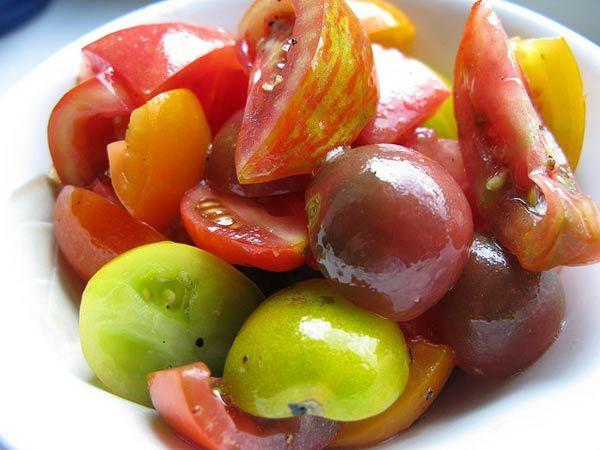 Tomatoes are a rich source of vitamin C. It is essential for maintaining immunity and healthy skin. The garlicky tomato salad is extremely delicious as well as a visual stunner.
Preparation time: 10 minutes
Servings: 4 ( as a starter) or 2 ( as a main dish)
Ingredients:
1 large leaf lettuce torn into smaller pieces
4 large or 6 small ripe Italian tomatoes
2 cups of halved cherry tomatoes
16 fresh basil leaves
2 tbsp toasted pumpkin seeds
2 tbsp toasted sunflower seeds
For Garlic Vinaigrette
1 small garlic clove, finely chopped
1 ½ tsp red wine vinegar
2 tbsp extra virgin olive oil
Pepper to taste
Method:
Whisk the garlic, vinegar and oil in a bowl to make the vinaigrette.
On a serving platter, place the lettuce leaves followed by sliced tomatoes and cherry tomatoes. Pour some vinaigrette over it.
Put the basil leaves and sprinkle pumpkin and sunflower seeds over the tomatoes and serve.