A manicure is a cosmetic treatment that basically involves taking complete care of the nails – starting from filing, shaping, massaging and finally applying polish. Other nail treatments can also be included in the process like application of acrylic nails, artificial nail etc. In French manicure, the only difference is that the Manicure is done to resemble natural nails.
The base of the nail is kept natural (in colour) and the nail tips are painted in crisp white. It is a very old technique to paint your nails and is loved by almost every woman. French nails lf done properly look very clean and sophisticated.
French manicure looks very feminine and elegant. They look great during working hours and also fun party times. They can be paired with any dress – Indian or western. You can get done by a trained manicurist at nail salons and can opt for them to be done in acrylics, gel nails or with ordinary nail paint. Acrylic and gel French manicure should be better left to professionals as they should be done with outmost care and if not done accurately, you can damage your nail bed. They are very costly too, In India, getting acrylics and gel nails with French tips costs around Rs. 1500 to 3000, depending on where you are getting them done. If you want to save money and don't want to go for acrylics or gel nails, then you can do them at home with ordinary nail paints. Here is a simple French Manicure at home tutorial.
How to do a french manicure at home
Things you will need for a french manicure:
Nail remover
Cotton
Luke warm water bowl
Hydrogen peroxide
Shampoo
A good hand cream
Cuticle pusher
Basecoat
Light pink/brown nail paint (using china glaze inner beauty)
White (opaque) nail paint (using OPI Alpine snow)
French tip guides
Top coat
Cuticle oil
Step by Step Instructions on how to do a french manicure:
1. Prep your nails by removing any old nail paint using acetone free formula. Don't use acetone as it will damage your nails. This is the first and foremost of the french manicure steps.
2. Now dip your hands in luke warm water. Before dipping your hands, add one teaspoon of hydrogen peroxide and shampoo to the water. Dip your hands for 15 minutes.
3. Take your hands out after 15 minutes and apply cuticle oil and massage your nails for a good 10 minutes.
4. Now push back your cuticles and snip off any dry ones.
5. Apply some good nourishing basecoat and let it dry completely.
6. After your basecoat dries, apply your base colour – light pink or light nude beige/ brown shade according to your choice and let it dry completely. It should be completely dry before proceeding to the next step.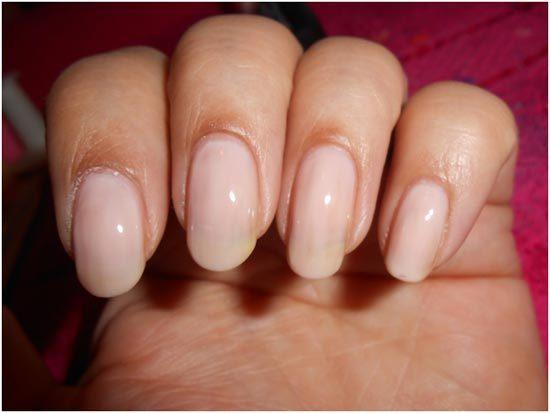 7. When the base color dries completely, put the french manicure tip guides just under your nail smile line as shown in the picture.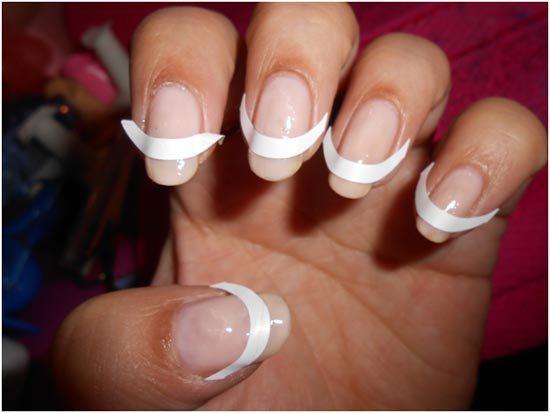 8. Paint your tips with white nail paint as shown in the picture below: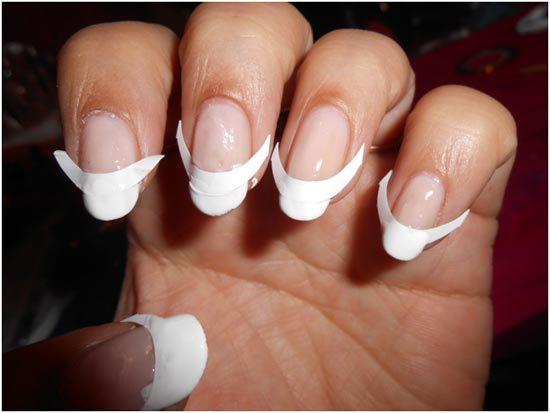 9. Remove French tips when your nail paint is still wet.
10. After removing French tips, clean any nail polish left over your cuticles using the nail polish remover and q-tips for getting a neat look.
11. Now apply the topcoat and let it dry.
12. Now apply cuticle oil to give extra nourishment to your nails.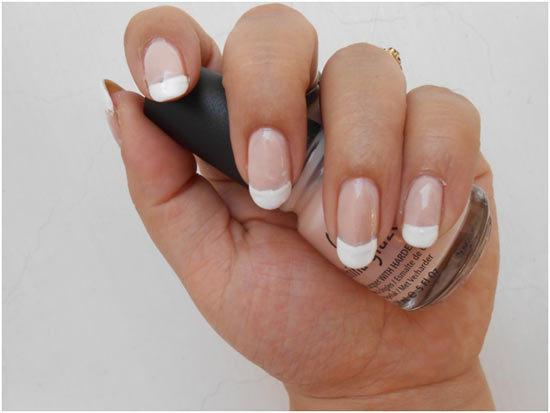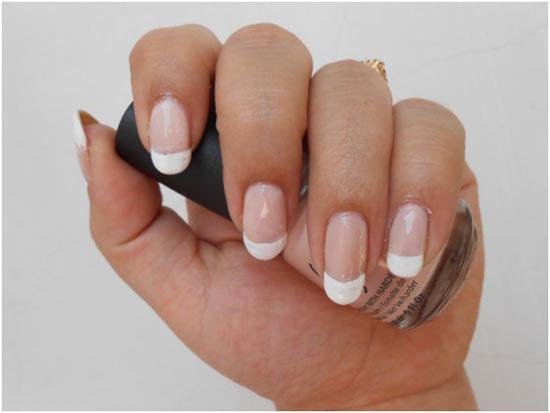 Special French Manicure Kits:
If you wish you can buy special French manicure kits available in market or online at very affordable prices, you should first ensure that it contains the following:
The basic French kits contains following things:
French tips guides (ones we used for making white tips above)
White nail paint.
Baby pink or nude colour nail paint.
Topcoat
Some kits also contain base coat, toe tip guides and rhinestones for nail decorations also.
Best Readymade French Manicures Kits Available In India: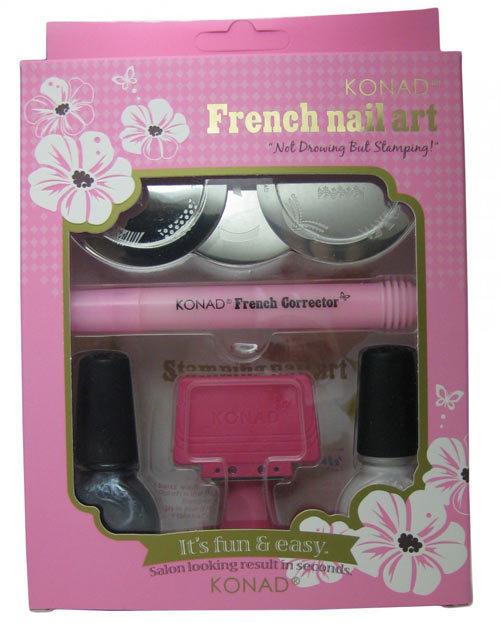 This kit is easily available in the market and online. It costs around Rs. 650 to 700 depending on where you are buying it from. This kit includes pale pink nail paint, white nail paint, top coat, french tip guides for hand finger tips and for toes tips, rhinestones for adding bling to your nails and acrylic stick for picking up the rhinestones. We totally recommend this kit as it gives total value for your money.
2. Sally Hansen French Manicure Kit: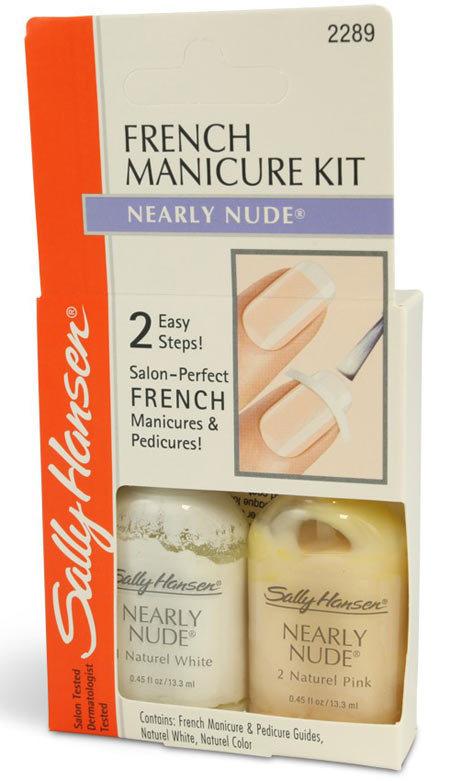 This kit is available at Beautykafe.com and comes in 2 – 3 variants. This costs around Rs. 610. This kit includes sheer base nail colour, white nail paint for tips and topcoat
3. Bourjois French Nail Art Kit:
This kit is quite expensive but is of excellent quality. You can buy these from any online store as almost all of them stock this kit. It retails for around Rs.1100/-. This kit includes French tip guides, white
nail paint
, sheer pink nail paint and a topcoat. We totally recommend this one as it is of very best quality.
4. VOV French Manicure Kit:
You can find this kit at your local beauty shops and they retail between Rs.150/- to Rs.350/-. It comes in many variants. The quality of these kits is really good. Beginners can buy these kits for practicing this technique and later can upgrade to the more expensive ones. This basic kit includes everything you need for creating beautiful French nails.